Matrix Energy Services programs are specifically tailored to address a large but specific application. Most of our partners are Utility companies that provide Energy Efficiency Programs funded through ratepayer surcharges.  These funds are used to encourage specific markets to reduce their energy demand.
Our current clients include
• Con Edison
• I&M Indiana
• Sacramento Municipal Utility District (SMUD)
• Hawaii
• Pepco
• Specialization in the Small Business sector, serving over 20,000 customers
• Complimentary Energy Assessments
• Direct Installation & Retrofits of Energy Efficiency Equipment
• Design and installation of sensor systems in both large & small industrial facilities
• Focus on Sustainability by safely recycling old equipment thus protecting our landfills from hazardous chemicals.
• Customer rebate processing
Direct Install programs are simpler than basic rebate programs. Customers have minimal paperwork and cost is often significantly lower than supplier costs. Some projects may even be at no cost, depending on utility incentives.
The process starts with an energy assessment, a key first step to building a comprehensive roadmap for energy reduction at a business' facility. The assessment will identify areas of opportunity in your facility that may be covered by the program(s) your business fits into; including internal energy-use behavior changes and upgrades to existing equipment.
We work with you to find the solution that best fits your needs. Matrix presents an easy to understand summary of recommendations, identifying all no-cost and low-cost energy saving opportunities. Simply sign the necessary paperwork and Matrix manages the rest
ENERGY PROJECTS COMPLETED
*savings are calculated based on $.12 per kWh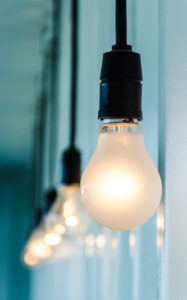 Reduce Carbon Footprint and Maintenance Costs
By installing efficient LED bulbs, facilities use 90 percent less energy. With a life expectancy of around 50,000 hours, LED bulbs last longer than incandescent and CFLs. Less Energy + Less Waste = Smaller Carbon Footprint
We see where you can improve your energy spending and save you money